The number of contracts signed to buy previously-owned homes in January marked the highest level in 18 months, the National Association of Realtors said Friday.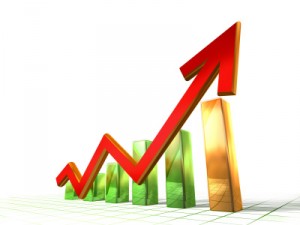 NAR's Pending Home Sales Index, which tracks contract signings (as opposed to closed sales), rose 1.7% in January to 104.2, from an upwardly revised December level of 102.5. (An index of 100 represents an average level of contract activity.) That level was 8.4% higher than in January 2014, when the index stood at 96.1, and marks the fifth straight month of year-over-year gains. December's figures beat expectations of economists surveyed by Bloomberg ahead of the release.
"Contract activity is convincingly up compared to a year ago despite comparable inventory levels," said NAR's chief economist. "The difference this year is the positive factors supporting stronger sales, such as slightly improving credit conditions, more jobs and slower price growth."
January buyers were able to buy despite a tight supply of homes for sale, a data point he says underscores pent-up demand. Unsold inventory in January stood at a 4.7-month supply at the current sales pace, up from the 4.4-month supply for December but well short of the 6-month figure considered to a marker of a healthy housing market. Inventory levels are about the same as they were last January, but the sales level was higher. Data suggests that the buyers are regular people rather than investors, since all-cash sales and investor purchases are both down compared to a year ago. January's very low interest rates may have also pushed some buyers to sign contracts.
January's numbers continue a change in the market that began in September. Before that month, contract signings had been down on a year-over-year basis since September 2013, as quickly escalating prices slowed the pace at which Americans were purchasing homes. As price gains slowed down and investors exited the market, contract-signings have crept up.
"All indications point to modest sales gains as we head into the spring buying season," says Yun. "However, the pace will greatly depend on how much upward pressure the impact of low inventory will have on home prices. Appreciation anywhere near double-digits isn't healthy or sustainable in the current economic environment."
Compared to housing reports released in the past weeks, Friday's news is more optimistic about the housing market overall. Home sales price growth was up just slightly in December, after 11 straight months of year-over-year slowdowns. Further, today's report is considered a more timely measure of the market than the former reports, because it is based on contracts signed rather than closed transactions. Closings generally come one to two months after a contract is signed.
The national median sales price for existing, or previously-owned, homes for 2014 rose 5.7% to $208,100. That level of price appreciation is much steadier than the rapid, 11.5% gain for 2013. In 2015, NAR expects the national median existing-home prices to rise between about 5%.
Total existing-home sales for 2015 are forecast to be around 5.26 million, or about 6.4% above 2014. Last year sales finished 2.9% below 2013 levels (5.1 million) at 4.94 million.