Minneapolis is a great place to live. It boasts a variety of neighborhoods and suburbs, recreational amenities (especially in the wintertime!), job opportunities, and incredible lakes and parks. It's no wonder this area is so highly rated!
If you're searching for your new home in the suburbs, you have plenty of great options. To help you quickly narrow your choices and easily find a place to call home, here's a comparison of the best Minneapolis suburbs.
Compare the Top Suburban Communities
| Suburb | Pop. | Schools | Drive to Minneapolis | Key Features |
| --- | --- | --- | --- | --- |
| Eden Prairie | 63,496 | Eden Prairie Schools | 25 min. | #1 Best Place to Live in America (MONEY) |
| Edina | 50,138 | Edina Public Schools | 15 min. | The Best Schools for Your Housing Buck (Forbes) |
| Excelsior | 50,138 | Minnetonka Public Schools | 30 min. | Art on the Lake festival |
| Minnetonka | 51,669 | Minnetonka Public Schools | 20 min. | Lake Minnetonka |
| Minnetrista | 7,178 | Westonka Public Schools | 40 min. | Trista Day festival |
| Wayzata | 4,217 | Wayzata Public Schools | 20 min. | Wayzata Beach on Lake Minnetonka |
| Woodland | 443 | Minnetonka Public Schoools | 20 min. | Waterfront homes on Lake Minnetonka |
Each Community Has Its Own Desirable Lifestyle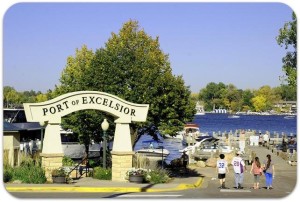 Edina is known for its "Taste of Edina" festival and major shopping centers. Eden Prairie has topped Money Magazine's list of the "Best Place to Live in America" multiple times because of its strong public schools and access to healthcare. Excelsior boasts numerous annual events and a coveted location on Lake Minnetonka.
Each suburb in Minneapolis has a distinct lifestyle and diverse real estate options, from condos in a downtown location to estate homes on the lake.
Contact David Azbill Group to Find Your Dream Home
Which Minneapolis suburb is your favorite? We'd be happy to introduce you to the community and give you a tour of available homes! Just call us at 612.925.8402 for a showing.
Still considering which suburb has all the amenities and type of home you want? Our local area guides offer in-depth information about each community's key features, including housing styles, popular activities, and local school districts. You can also review our home buying resources to learn more about the process and how much you can afford for a home in the Minneapolis area. Contact us if you have any questions; we're more than happy to provide you with answers.