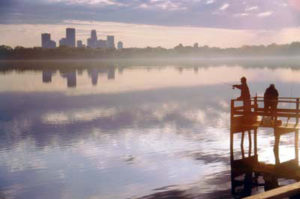 One of the joys of life in Minneapolis is lakeside living. If you're the kind of person who loves luxury, modern homes, and the lakefront lifestyle, Lake Calhoun is one neighborhood you won't want to miss! Check out some of our favorite things about living in Lake Calhoun.
Great Location
The neighborhood around Lake Calhoun is perfect for those looking to commute. However, there are still a ton of amenities around. From excellent shopping venues to fantastic restaurants, you're sure to find something to love. For those who love to spend time outdoors, there are a number of wonderful parks such as Bass Lake Park,  Lake Calhoon Park Bde Maka Ska.
The local country club, Minikahda Club, offers a fantastic 18-hole Championship Golf course, as well as an active tennis program and a pool. Regardless of whether you're a golf enthusiast or not, there's something for everyone at Minikahda Club.
Beautiful Homes
Lake Calhoun is home to a great number of modern, opulent condos. Not only do these lakeside homes give you excellent access to everything the city has to offer, but many of these condo buildings offer incredible amenities. Find a home with a fitness center, or beautiful views of Lake Calhoun.
With homes in Lake Calhoun, you get the best of both worlds: all the conveniences of city living, combined with easy access to outdoor activities and amenities.
Life on the Lake
Of course one of the biggest draws of life in Lake Calhoun is the lake itself. Where else can you enjoy the adventure of the outdoors right in the middle of the big city? With opportunities for fishing, wind surfing, swimming, sailing, and canoeing, there's a ton of ways to get out and spend time on the lake.
Even if you're not one for water sports, there are pathways around the lake. The trail system has separate paths, each a little longer than 3 miles, for cyclists and pedestrians. So whether you're interested in, walking, jogging, biking, rollerblading, or something else entirely, enjoy the scenic views around the lake.
Ready to Move to Lake Calhoun?
If you're interested in moving to Lake Calhoun or the surrounding area, don't hesitate to give us a call. There are plenty of areas with lakeside amenities that we'd be happy to show you.
We've got plenty of home buying resources to help you in your home search. Call us at 612.925.8402 for more information!