Who doesn't love a good burger? When it comes to the Twin Cities, you have plenty of options for finding the perfect cheese burger. Whether you prefer turkey, veggie, or old-fashioned beef, the perfect restaurant for you is in one of these communities.
Consider us your guide for life in the Twin Cities. If you're relocating to the area, consider requesting a free relocation guide. We'd love to provide you with complimentary resources for getting to know the area, fun things to do near your home, and an introduction to the real estate market here. If you need any recommendations, from food to fun, we're here for you.
For example, we'd like to recommend the following burger joints in the Twin Cities. Beloved by locals and tourists alike, these are the places for a good burger.
Cafe Alma
One thing all of these restaurants share is a commitment to quality beef. Many choose to source their beef locally, or from top-quality farms and ranches.
Cafe Alma does not disappoint with it's two-patty thick burger. Minimal condiments and shredded iceberg lettuce allow this burger to truly shine. The toasted brioche bun is perfection. Located in Minneapolis, this spot is the perfect place for lunch or dinner.
Bull's Horn Food & Drink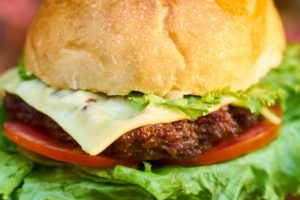 Sometimes you just need a good old-fashioned burger. Gourmet grass-fed beef is spread out into a wide patty that maximizes flavor in this incredible Minneapolis burger.
Cheese, iceberg lettuce, and a gourmet but simple sauce complete this little piece of heaven.
Esker Grove
Located at the Walker Art Center in Minneapolis, this burger has in fact been compared to a work of art. The bun itself is worth a visit. It's made fresh daily and buttered and toasted perfectly.
The burger itself is topped with salty American cheese, expertly sliced pickles, and served with two different sauces.
Mercy
By the time you're done eating this burger, you'll proclaim "Have mercy!" This single patty burger is exceptional. It's a mix of prime chuck and brisket,  as well as New York strip and sirloin steak. It comes with shredded lettuce, delicious pickles, and a sauce that practically sings.
Topped with gouda cheese, this is a burger fit for royalty.
Fulton Brewing Co.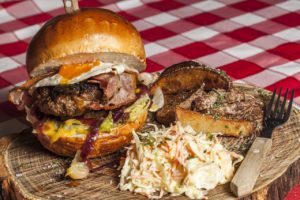 Last, but certainly not least, is a nontraditional burger from a Minneapolis favorite.
Delicious beef is enriched with porchetta and served atop two slices of a Pullman loaf. It comes with Swiss cheese, mayo and ketchup, as well as a pinch of Old Bay seasoning.
More of a patty melt than a burger, this sandwich does not disappoint.
Your Guide to the Twin Cities
We want to introduce you to all the finest parts of life in the Twin Cities. From burgers to brews, we have a recommendation for just about everything.
If you have any questions about moving to Minneapolis or the Twin Cities, are looking for a Twin Cities home for sale, or simply need someone to chat with about your plans, please let us know . We're always here to help.