Looking for a unique property you're proud to call home in Minneapolis? This industrial-style custom highrise penthouse could be exactly what you're looking for!
Offering out-of-this-world views of Lake Calhoun, every inch of this 3-bedroom penthouse property has been retrofitted and designed to make the most of space without sacrificing comfort or style. See for yourself what makes 3220 W Calhoun Parkway, unit 602 one of the most unique apartments in all of Minneapolis.
The Views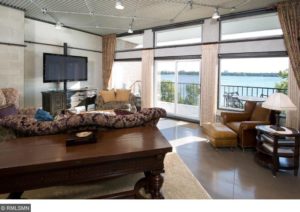 Stepping through the front door of 3220 W Calhoun Parkway, the first thing you're bound to notice is the floor to ceiling windows that surround the glass doors. Designed to make the most of the 10-foot ceilings, this combination makes the open concept main room seem as spacious as it is beautiful.
Apart from letting in gorgeous natural lighting, the use of glass fixtures makes the most of the main desirable feature of this home: the views. A penthouse suite, this apartment offers breathtaking unobstructed views of Lake Calhoun, complete with a  private viewing balcony.
An Industrial Haven
This penthouse paradise has been retrofitted with a degree of detail that far surpasses the usual. The exposed concrete walls and stainless steel motifs that run throughout the architectural design of the home are juxtaposed perfectly with warm wooden accents, creating cozy but sleek spaces.
The commitment to these design elements blends style perfectly with function, as seen in the custom sliding barn doors that adorn each bedroom. Custom stainless steel closet and storage fixtures make this 1800 square foot apartment feel much more spacious.
Commercial Kitchen

The kitchen at 3320 W Calhoun Parkway is as fashionable as it is functional. Masterfully designed to utilize the natural light that comes in through the floor to ceiling windows, the composition of the stainless steel kitchen literally gleams during the day time.
This penthouse features a commercial-grade kitchen, this open-concept room connects to both the dining and living areas, creating an extensive space for entertaining. Delight and "wow" guests with the truly unique and futuristic elements of this artful arrangement.
Ready to tour 3220 W Calhoun Parkway?
This penthouse apartment is one you truly need to see to believe! Let us take you on a tour of this dream home. With years of experience in luxury living in Minneapolis, we can connect you with area resources to make your home-buying experience a breeze.